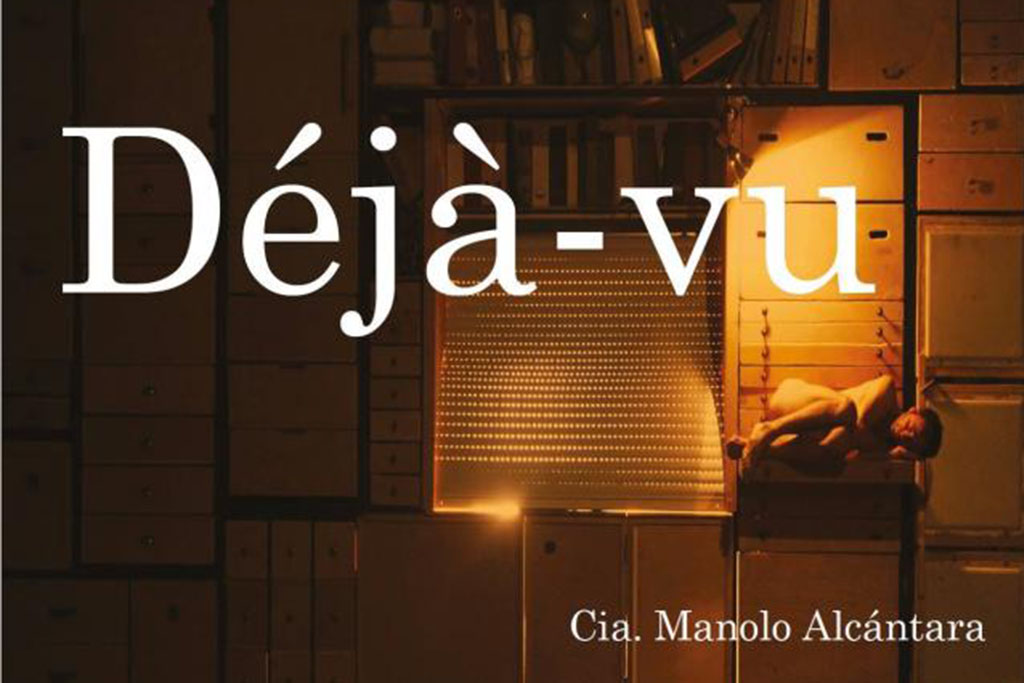 CIA. MANOLO ALCÁNTARA presents DÉJÀ VU
⇨ Wednesday, 25th August
⇨ 22:00
⇨ Circus
⇨ 60 mins
Déjà vu is a personal, theatrical, very visual, suggestive, risky, different and full of life circus show, that the company has worked slowly over three years.The teaching of Charles Chaplin, Charlie Rivel or Marcel Marceau come to mind when contemplating the performance of Manolo Alcántara, a virtuoso acrobat, a spirit of tenderness, a humorous poet.
It all starts when Alcántara gets out of bed. We do not know what it means: we do not know if it is a dream or if it is an awakening. That's the game. The viewer must discern between reality and fiction. Because Déjà vu is a world of illusions, full of music, with a scenery of improbable proportions, with miniatures and giants where everything is bigger or smaller than it should be, with fun moments and great physical dexterity. A show without a script, with live music where the presence of Laia Rius should be highlighted, due to her powerful and beautiful voice and her wealth of records.
Manolo Alcántara's career has undoubtedly helped him to establish himself as one of the most interesting and genuine artists in the performing arts scene. Throughout his 25 years in the profession, he has collaborated with Comediants and Mont&Cia; he co-founded Circo Imperfecto touring for over five years with the show Genuinos Imperfectos. In 2006 he created his own company Solo Manolo. In 2010 he created the show Plecs, a co-production of CAER (Trapezi) and the Teatre Nacional de Catalunya. In 2014 he premiered RUDO, created and directed together with Xavi Erra. Déjà vu is his latest creation.
"I am self-taught, I consider myself more a craftsman than an artist. I create the shows entirely from intuition, play and curiosity (which leads me to think, sometimes, that I know nothing about the circus). I accept the risk of the circus and transform it to share it with the public. " Manolo told us.
In his artistic career he has won various awards, such as the Award for "Best Street Show" of the Feria de Teatro de Tàrrega for "Aplaudiment Sebastià Gasch" (2001, 2006 and 2010), "Zirkolika Award for Best Circus Show" (2010) and "Award for Best Performance at the International Autumn Theatre Festival – FIOT" (2011). With RUDO he won the "Award for the Best Street Show of the Festival Umore Azoka in Leioa (2014), Zirkòlika Award for Best Indoor Circus Show (2015), and the FETEN (Feria Europea de las Artes Escénicas para Niños y Niñas de Gijón) Award for the best show of Noches Feten 2015. With Déjà vu he has just won the Premio FETEN for the Adaptation of Technical Circus and New Drama.
Concept, Creation & Direction: Manolo Alcántara
Musical Composition & Arrangement: Laia Rius
Performers: Andreu Sans, Laia Rius y Manolo Alcántara
Performer Support: Joan Trilla
Scenography: Manolo Alcántara
Musical Production: Pep Pascual, Laia Rius
Prerecorded Music Performed By: Josep Traver, Ivan Tomasevic, Pep Pascual, Maria Bou, Laia Rius y Xavi Túrnez
Sound Engineer: Pep Pascual
Wardrobe: Rosa Solé
Light and Sound: Ivan Tomasevic
Puppet Design & Construction: Toni Zafra
Props and Images: Xavi Erra
Management & Production: Clàudia Saez
Suitable for ages 7 and above.